A. Uniform Assessment System:
Keeping in line with guidelines given by CBSE, students at The Green School are assessed on pattern of Uniform Assessment System.
Students will be assessed on Scholastic (Languages, Mathematics, Science, Social Studies, etc.) and Co-Scholastic (Art & Craft, Yoga, Discipline, etc.) Areas.
No formal exams would be conducted till class II. Students' performance would be assessed only through regular classroom tests & observations.

Class III onwards, students would be evaluated using Periodic assessments as well as formal exams in two terms.
Periodic Assessments (PA): They will cover Class Tests (monthly); Note Book Submissions (at term end) and Subject Enrichment activities (aiming to increase understanding and subject skills of students).
Formal Exams: There will be two formal assessments, Half-yearly & Final Assessments.
B.Grading Criteria:
Play Group to Class V
Scholastic Areas: While reporting students' achievement in different scholastic areas, indirect grading in absolute scale having five points will be used. The grades will stand for the following distribution of marks:

No retest will be conducted if a student remains absent for any written test.
Co-scholastic Areas: During an academic year, students will be observed and marked for his overall performance, in co- scholastic areas of the curriculum.


The grades will be reflected in the Progress report issued to the students.
Class V onwards: Scholastic as well Co-Scholastic areas would be assessed as per the CBSE norms.
C. Assessment Schedule:
For Play-group to Class II: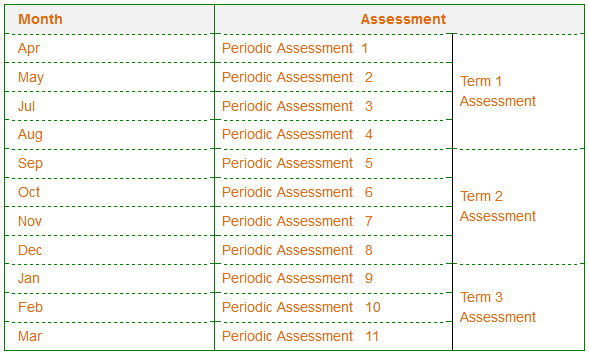 For Class III onwards:
Six assessments (four formative and two summative) are graded on a five point scale.