THE GREEN SCHOOL'S EXCLUSIVE: YOUNG ACHIEVER'S PROGRAM
We believe that if the right set of values and skills are ingrained among children at the early stage, no matter whatever the circumstances are; they will become capable enough to react responsibly with their family, peers, community and above all with themselves. Thus, keeping in view opportunities and challenges and need of our children, The Green School has designed Young Achievers' Program (YAP) for overall development.
YAP is a holistic developmental program ensuring Personal, Spiritual, Intellectual, Physical and Social development of a child. It aims to make child not only an academically successful but also responsible member of the society while possessing rich moral values.
YAP Core Development Dimensions, Goals & Areas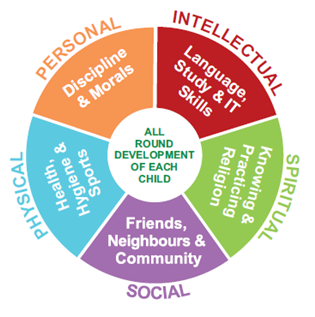 YAP- Young Achievers&' Program: Developmental Dimensions
Personal : Equip with values, morals, skills and capabilities along with high order of self-discipline, essential for success.
Intellectual : Achieved academic excellence with developed learning strategies, language and IT Skills.
Spiritual : A strong believer doing good deeds.
Physical: Nutritionally responsible, physically fit and oriented towards healthy lifestyle.
Social : Active member of community having strong bond with family, friends, relatives neighbours
Applicability on Students:
Play Group to Class III: To ensure All-round development of these students, teachers/ in-charges work responsibly on different aspects a
Intellectual:

Academics

Personal:

Personal Development Program

Social:

Social Development Program

Physical:

Yoga & other Physical Activities

Spiritual:

Master Muslim Program
Class IV and above: As students become mature enough to identify their development needs and work on it. Thus, along with Beyond Academics (above mentioned) programs; comprehensive YAP is offered to students of class IV and above.
Students identify their Intellectual, Personal, Social, Physical and Spiritual needs, set their goals, make action plans and work to achieve them with periodic reviews
YAP Assured Outcomes:
Initial

: Increased participation in group academic and extra-curricular activities; engagement in pro- social tasks; improved family relations; more community involvement and higher motivation to seek and give peer support guidance.

Intermediate

: High order of self-discipline; improved school performance; increased involvement in sports and better physical health; more participation in community service and strong mentor-mentee relationships.

Long-term

: Effective leader with strong character; peace loving; successful in school and later in career; healthy; responsible family member, active in community affairs, and a mentor.